Left to right: Ruben Gonzalez, Terry Colliton, John Fisher, Laurie Siegel, David Tarlo, and Mario Cancel-Bigay
It was great performing at Taller Latino Americano!
We had lots of fun mixing our styles and vibes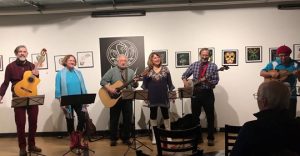 This Saturday December 7th 8PM – $20
Rubén González, Mario Cancel-Bigay and Hudson Valley Sally (Terry Colliton, John Fisher, David Tarlo and Laurie Siegel) are frequent collaborators, playing in local venues in NYC and the Clearwater Music Festival. Their music combines Latin American nueva canción and traditional folk music in both Spanish and English. Their repertoire includes traditional Puerto Rican cuatro music, Latin rhythms, and original songs. T

heir words, along with their rich harmonies will lift your spirits and make you think.