Our gig at Silvana was a blast!
From left to right above: Mario Cancel-Bigay, Terry Colliton, John Fisher, Laurie Ann Siegel, David Tarlo, and Ruben Gonzalez
We went from Spain and the 15 Brigada in the 1930's to Bolivia today, listening to the FM band, we did our sacred thing: Sing, sing, sing
Cantar, cantar, cantar!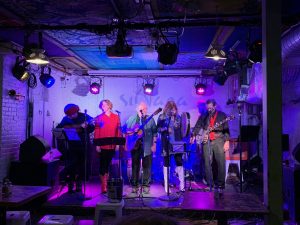 Rubén González, Mario Cancel-Bigay and Hudson Valley Sally (Terry Colliton, John Fisher, David Tarlo and Laurie Siegel) are frequent collaborators, playing in local venues in NYC and the Clearwater Music Festival. Their music combines Latin American nueva canción and traditional folk music in both Spanish and English. Their repertoire includes traditional Puerto Rican cuatro music, Latin rhythms, and original songs. T
heir words, along with their rich harmonies will lift your spirits and make you think.